Changing Channel and Channel Width on a TP-Link Router (new logo)
A wireless channel determines which operating frequency will be in use. It is not necessary to change the channel unless you're noticing interference problems with nearby access points. The Channel Width setting is preset to automatic, allowing the client's channel width for to adjust automatically.
Before we begin, please log into web management interface: connect your computer, phone or tablet to the TP-Link router via Ethernet or Wi-Fi, use the default access printed on the router to visit the web management interface.
Single-band Router
Step 1 Click Wireless>Basic Settings.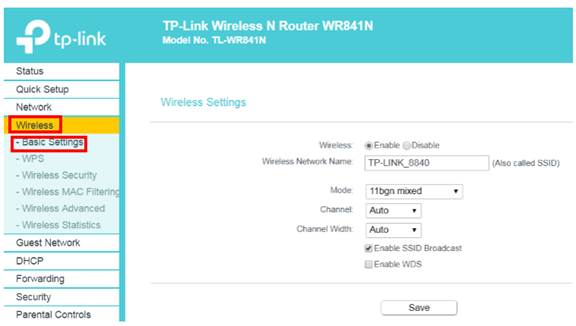 Step 2 Change Channel and Channel Width then click Save.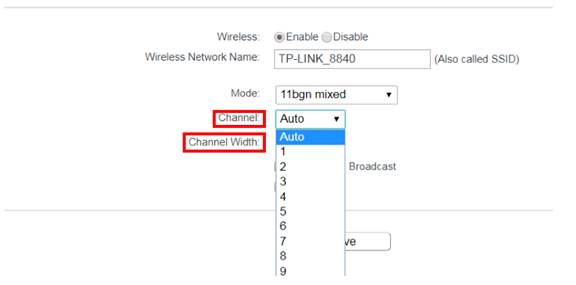 For 2.4GHz, channels 1, 6 and 11 are generally best, but any channel can be used. Also, change the channel width to 20MHz. We recommend that if you have no legacy devices to abandon the use of 2.4GHz channels altogether.
Dual-band Router
Step 1 Click Advanced>Wireless>Wireless Settings.
Step 2 Click 2.4GHz, and change Channel and Channel Width, then click Save.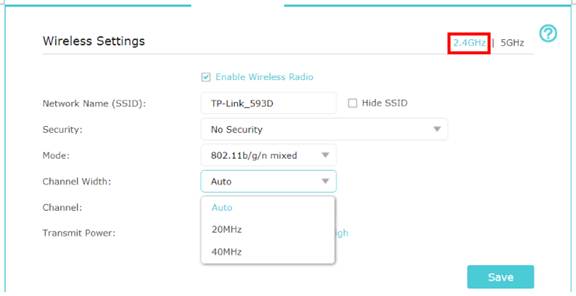 Step 3 Click 5GHz, set Channel Width to 20MHz, then click Save.
Note: If your router is tri-band, repeat step 3 to change channel and channel width of the third band.